Hello dear friend, thank you for choosing to start a Facebook fundraiser on our behalf! Your advocacy is crucial to the future success of our mission to rebuild the only alternative to corporate-owned factory-farm poultry.
We've made up this guide to setting up a Facebook fundraiser and making it as successful as possible. Please look through it and visit the Facebook fundraiser page to start your fundraiser today!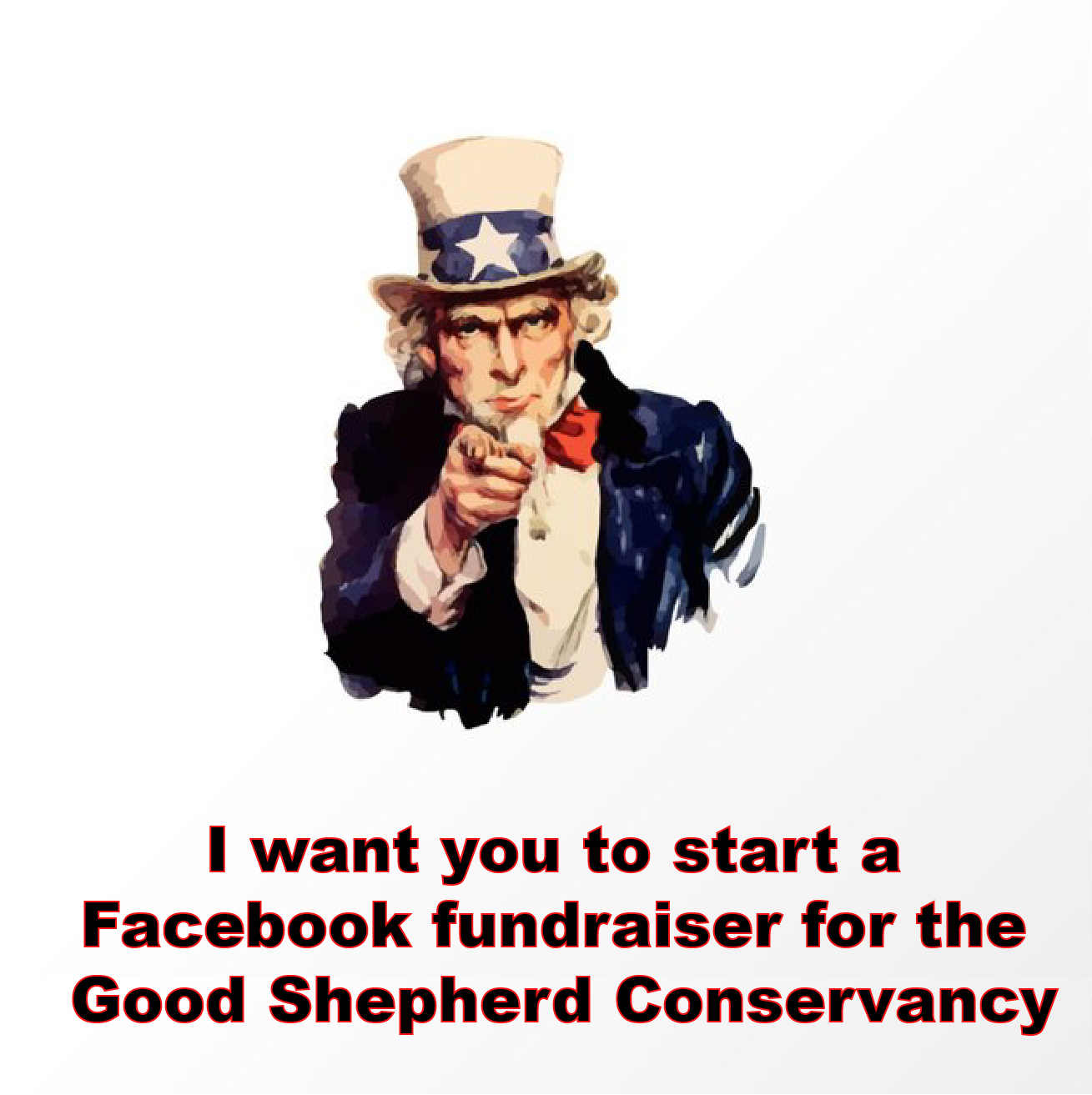 Finding Facebook Fundraisers
On your computer/phone login to Facebook or enter the Facebook app
On your computer on the left, click Fundraisers or visit www.facebook.com/fundraisers

On your phone tap Menu and then tap Fundraisers.

On your computer click raise money for a non-profit

On your phone click create a fundraiser and then click Nonprofit
Creating Your Fundraiser
Type Good Shepherd Conservancy INC into the search bar and click on it to generate your fundraiser
Fill out the details for the fundraiser 

Facebook will generate a standard name for the fundraiser. You can use it or change it to your liking. If you have a birthday coming up it may be good to title it as a birthday fundraiser to help encourage your friends to participate.
Enter a goal amount of money you want to raise. We suggest that you set this to be between $250-$1,000, or more if you preffer.
Select an end date and a currency for the fundraiser.
There is a box declaring why you're raising money for the Good Shepherd Conservancy for the About section of the fundraiser description. Do not use the text provided by Facebook, it is boring and uninspiring. Instead, we suggest you copy and use the text we've provided at the bottom of this document.
Download this photo to use as the cover photo for the fundraiser and upload it to the fundraiser page. If that's too hard just skip this step.

Press Create to start the fundraiser
Promote Your Fundraiser
Once the fundraiser is created to ensure it's successful we suggest you do the following to promote it

Make a donation yourself to get it started
Invite your friends to the fundraiser
Share the fundraiser on your wall, on any applicable social media, and/or through other means such as email. Sharing it with groups you're a part of on Facebook is also a great way to promote it.
Make sure to tag the Good Shepherd Conservancy wherever possible in these posts.

Follow up once or twice a week on the fundraiser until it is completed. In these follow up posts you can share selection from our blog, pages from the GSC website, or social media posts from the GSC Facebook and Instagram pages to the fundraiser.

Once the fundraiser ends facebook will send us all the donated funds. Please also feel free to contact us via our website or facebook and tell us how much money you raised, we'd love to hear from you.
About Section Language
Frank Reese's Good Shepherd Ranch in Kansas is the only remaining commercial Certified Standardbred heritage poultry farm in the U.S. Good Shepherd's turkeys, chickens, ducks, and geese comprise the oldest continuous breeding lines of Standardbred turkeys in North America.
This year, we broke ground on the Good Shepherd Conservancy Center, a 501(c)(3) nonprofit. Building the center might be our last chance to repopulate America's farms with non-factory-farm poultry.
Remarkably, almost every chicken and turkey consumed in the U.S. is an industrial hybrid crossed from multiple lines of inbred birds, which maintains natural mutations such as dwarfism, obesity, and hypothyroidism. GSCC is a bulwark against the total corporate takeover of our poultry industry.
GSCC will be a training ground for hundreds of farmers to learn the old art of raising and breeding these rare strains of poultry. After the training is complete, they will return home with Frank's genetics in hand to make their birds independently and locally.
GSCC will be open to the public and house an operating hatchery producing Standardbred heritage birds as well as an interactive living museum featuring many exciting and beautiful varieties of Standardbred poultry. Visitors will learn the storied histories of these birds as well as the history of corporate poultry farming, from the birth of Tyson Foods to the creation of the Chicken McNugget. All this and GSCC's guest house and professional kitchen on the site of a working farm will make it an agritourism destination unlike any other.
Help us build the Good Shepherd Conservancy Center by donating! Facebook pays all the processing fees for you, so 100% of your donation goes directly to the nonprofit.